This Daiwa BG Spinning Reel is one of the top products in the market, established with finely tuned features, and finished with quality engineering. It has super-hard body and excellent dragging power along with improved casting accuracy.
This is a well-balanced reel with a combination of good design leading to high performance and durability. It does have some disadvantages that I will explore further below such as the max drag and total weight.
The Daiwa BG made the list as one of our top bass spinning reels.
Everything in this review is based on my own personal experiences and angling knowledge.
Quantitative Score
Performance – 4/5 ⭐⭐⭐⭐
Durability – 5/5 ⭐⭐⭐⭐⭐
Value for Money – 4/5 ⭐⭐⭐⭐
Overall – 4/5 ⭐⭐⭐⭐
Read more about how our scoring system works.
Daiwa BG Reel Overview
Dragging Support
Within each model of the Daiwa BG Spinning Reel, dragging force differs due to the advanced gear functions in them. While the lowest grade among the four has a dragging max force of 4.4 lb, the best one is crafted to provide a dragging force of 17lb. Therefore the reel can suit both the beginners and the expert anglers.
Reversed taper used in the system makes the Daiwa BG Spinning Reel one of the most awaited products in the entire store. Dragging force does make the real-time difference, but the balance of the reel is also important. This balance provides a smoother effect when pulling in large catches.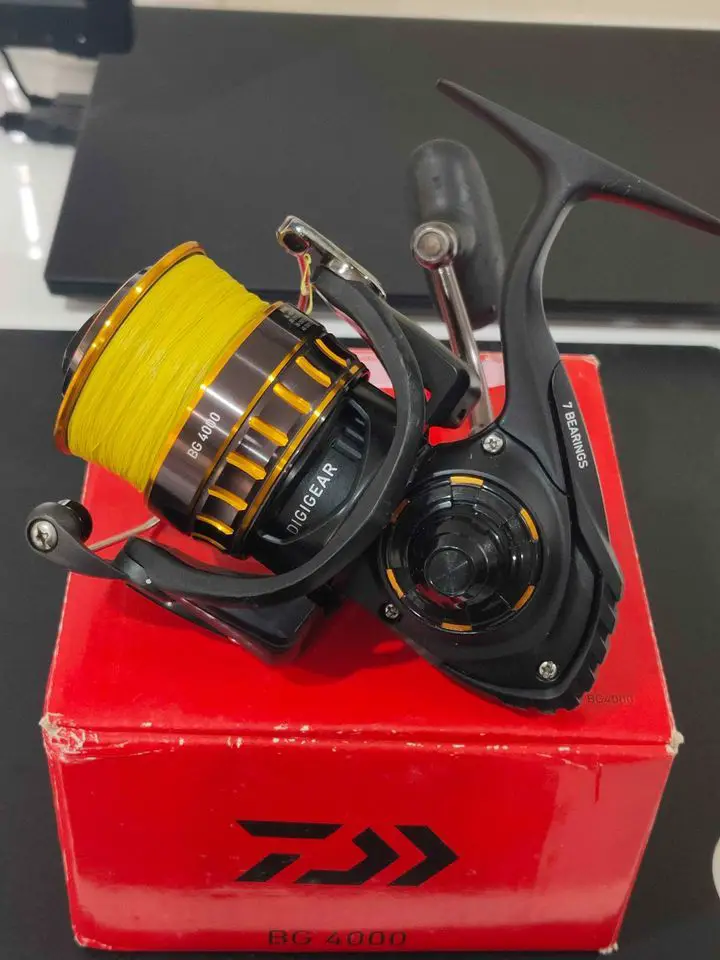 Excellent Waterproof Body 
The body of the reel is the main thing that defines its usage in salt or freshwater. Hard-core metal acts as the protective shield, but nevertheless, the excellent sleek body makes the reel a pleasure to use.
Excellent Carbon ATD makes the reel both waterproof and at the same time relatively lightweight. With the rotor and the side blades slanted, the reel seems to be one of the slimmest items among other spinning reels.
The Daiwa BG fishing reel is very durable, and much of that credit goes to the hardcore metal body
Casting Distance
In the case of the Daiwa BG Ultra-light reels, the reel is excellent for casting with smooth line-lay.
In regards to the distance to which you might cast, this reel can be used to angle a salmon easily, while you are standing at the shore. The ability to cast smoothly plus the distance covered makes this reel rare among all the spinning reels.
Bearing Function
Casting, cranking, and dragging force are the three things that are usually checked while purchasing a fishing reel. Many anglers also check out body weight, balance, and durability. However, there stands another thing that the beginners often miss out, but the professionals would never miss – the smoothness in action.
The dragging force can be very high, but if the reel lacks smoothness, it will not be able to give you the effective dragging force. This Daiwa BG Ultra-light spinning reel has a smooth action with 6 stainless steel ball bearings, well protected under a shield. Due to the bearings, the action is naturally made smoother to give you a better experience.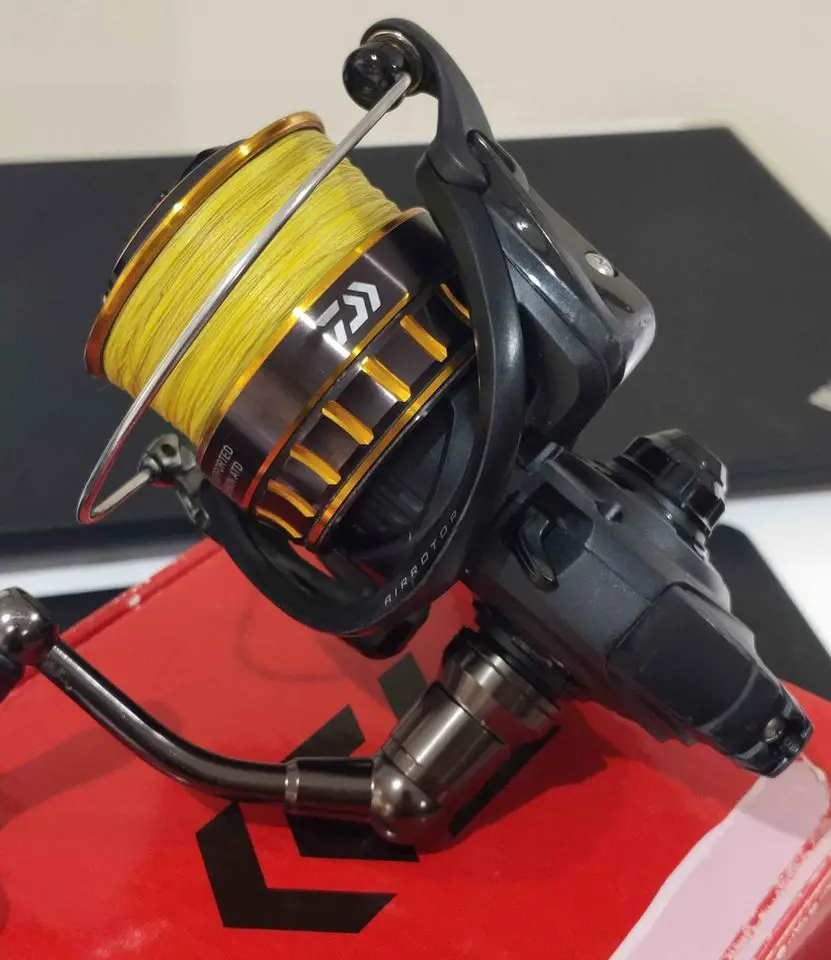 Slippage Protection 
The Daiwa BG Slippage Proof Spinning Reel also helps prevent slippage in the line. To prevent slippage and losing your fish the Spinning Reel has a gutter system on the bearing. This will hold the line from slippage, ensuring that the fish is finally dragged into your boat.
Pros
The reel contains an Air Rotor which is a weight-reducing design feature.
Daiwa BG spinning reel has 6+1 bearings, out of which 6 ball bearings are made of stainless steel and gives great smoothness to the entire reel for all types of users. The remaining bearing is a Roller bearing that acts as an anti-reversal agent
The cranking ability and the line capacity of the reel are really outstanding
It is available in a wide variety of sizes from 1500 to 8000.
Cons
The reel weight is higher when compared to that of some other reels that are available.
The reel is good in terms of casting and dragging, but in both the cases there are other reels in the market that are better performing when price is considered.
The max drag is suitable but is slightly lower than I would prefer.
Video Review
Alternate Comparison
I always like to compare reels to similar alternate options. In this case, I have picked another Daiwa reel in the Fuego LT. There are a lot of similarities between these two reels – they have the same number of ball bearings and a very similar price.
The Fuego however is both lighter and more powerful – a very enticing combination. The BG has a higher gear ratio and is better suited for faster retrieving lures, so it depends on what you will be using it for.
This comparison is based on a 2500 sized reel model.
| | | |
| --- | --- | --- |
| Key Specifications | Daiwa BG | Daiwa Fuego LT |
| Weight | 9.3 oz | 7.2 oz |
| Ball Bearings | 6+1 | 6+1 |
| Gear Ratio | 5.6:1 | 5.3:1 |
| Max Drag | 13.2 lb | 22 lb |
| Price | $$ | $$ |
Specifications
Model
Number
Bearings
Gear Ratio
Line Per
Handle Turn
Weight
(oz)
Line Capacity
(Lb / Yards)
Max Drag
(Lb)
BG1500
6+1
5.6:1
28.3″
8.5
MONO: 4/155, 6/100
BRAID: 8/220, 10/130
4.4
BG2000
6+1
5.6:1
29.5″
8.5
MONO: 6/135, 8/110
BRAID: 10/160, 15/130
4.4
BG2500
6+1
5.6:1
33.2″
9.3
MONO: 6/210, 8/170
BRAID: 15/190, 20/170
13.2
BG3000
6+1
5.6:1
37.4″
10.8
MONO: 8/240, 10/200
BRAID: 15/280, 20/240
15.4
BG3500
6+1
5.7:1
38.5″
14.1
MONO: 10/240, 12/210
BRAID: 20/310, 30/230
17.6
BG4000
6+1
5.7:1
39.9″
14.3
MONO: 10/300, 12/260
BRAID: 20/370, 30/280
17.6
BG4500
6+1
5.7:1
43.1″
22.0
MONO: 14/350, 17/280
BRAID: 40/340, 50/270
22
BG5000
6+1
5.7:1
47.4″
22.6
MONO: 14/470, 17/380
BRAID: 40/480, 50/360
22
BG6500
6+1
5.3:1
48.7″
29.5
MONO: 20/370, 25/310
BRAID: 50/550, 65/440
33
BG8000
6+1
5.3:1
53.3″
30.0
MONO: 20/550, 25/440
BRAID: 50/730, 65/590
33
Frequently Asked Questions
What is the weight of the reel?
The weight of the reel varies between the models, where the lightest one is 8.5 oz and the heaviest one is 30 oz.
What is the gear ratio in the reel?
The top three models have a gear ratio of 5.6:1 and the last one with the biggest range has a ratio of 5.7:1.
Conclusion
After going through the features of the reel, it can be clearly identified that it has extraordinary outputs and is also lightweight. The design of the Daiwa BG Lightweight Fishing Reel is engineered so that all types of users can use it.
If you are looking for an alternative then check out Daiwa's Ballistic Reel.
While the beginners will start learning how they can do better, on the other end, the experts will appreciate all its features. Outstandingly configured this reel is well crafted and has excellent dragging force, ultimate casting support and balance.