Bass fishing is an exciting sport that requires a measure of precision and power, to reel in those fish. Bass fish fight back quite a fair amount, which makes them difficult to reel in with an average spinning reel, and they need a little bit more oomph to draw them in.
It can be difficult to determine what the right equipment is to catch a bass, and that only serves to make them far more elusive and attractive to fishers around the world.
But what kind of reel should you use? Amongst many professional bass anglers, the most trusted of all reels are baitcasting reels, which give an unparalleled degree of control and precision which is crucial for catching those tricky fish.
These reels are considerably more complex than other reels, but the sense of control they provide is well worth the extra time and effort invested. 
Opinions on the best baitcasting reels vary wildly from person to person, and these opinions can change from year to year, as reels continue to innovate in different ways. So let's find out what are seven of the best baitcasting reels on the market today could help you to grab your first bass!
This article is part of my Complete Guide to Bass Fishing series that you might be interested in.
7 Best Baitcasting Reels for Bass
1. RUNCL Baitcasting Fishing Reel REMIEL
You'll be amazed at the price of this beauty. It's incredible that RUNCL can offer such an amazing reel for such an affordable price. The RUNCL baitcaster stands out best for its long and sturdy handle.
With a larger distance between each end of the cranking handle, the RUNCL reel can offer an unparalleled sense of control, which is perfect when wrangling a particularly stoic fish.
The handle is also equipped with non-slip material, to ensure you won't lose your grip even in the heat of the moment. This non-slip material is also soft to your skin, so you won't end up with painful blisters on your hands when fighting against a trophy fish.
You also won't have to worry about your line snapping just before you reel in your prize, thanks to the advanced seal drag system. The drag system allows the reel to turn slightly when a certain amount of tension is reached on the line.
This helps to prevent the line from snapping, by giving it some leeway when under considerable stress. You'll really feel the advanced engineering in this compact but powerful reel when you use it, and you'll no doubt notice a considerable increase in larger catches!
Despite its small size, this reel also packs some considerable heft, which helps to make it feel incredibly powerful in your hands, which will lead to smoother and far more confident reeling.
This is thanks to the ball bearing system, which makes use of 10 ball bearings. One of these bearings is a dead-stop bearing, which kicks into action automatically when a bass starts to fight back against your reeling.
The reel can automatically discern when to kick in the dead-stop brake, or to give a little bit of drag, which means that you can fish without worries. 
Pros:
Considerable strength and weight packed into a small reel.
Affordable price considering the plethora of benefits it offers.
The comfortable handle makes longer fishing sessions pain-free and comfortable. 
Cons:
Slightly noisier operation than competing reels.
Backlashes can still occur with the braking system, which means the tightness of the brakes needs to be checked often.
2. KastKing Royale Legend II
With a sleek red and black design, this reel not only does the job perfectly, but it also looks the part when doing it! Comfort is the goal with this rod, not only for you, the user but also for the fishing line itself.
The ergonomic cranking handle features comfortable grips, to ensure that you won't lose hold of a tough bass and that you won't end up with any friction burns from reeling.
As well as this, the subtly concealed side cover keeps your fishing line comfortable throughout multiple frequent uses, to ensure that you won't have to change your line constantly, and you won't have to worry about it snapping at the worst moments.
The cranking gear is also perfectly engineered to give you an incredible sense of control and precision. You can easily adjust your reeling speed on the fly, to speed up or slow down, without causing strain on any part of your rod, or on the line itself. The reel will work effortlessly to keep up with you, to give you the power or control that you need at the moment. 
You can also rest assured that every component that goes into making the KastKing Royale an amazing piece of kit is of the highest quality. The body of the reel itself is made up of stainless steel, which keeps it clean through multiple uses, while also preventing rust from developing, which is perfect, considering you'll be using it when surrounded by water!
Other components are made from steel, such as the drag system which allows the reel to turn slightly when it encounters serious resistance. This means that you can also depend on the drag system whenever you need it. 
Pros:
Cranking gear is built to keep up with adjustments in your speed, to give you precise reeling, without the risk of strain.
High-quality materials involved in the construction of the reel ensure it can stand up to strain.
Designed for comfort, both for the user and the fishing line.
Cons:
Feels slightly more lightweight than competing reels.
Noises can develop when casting and reeling, especially after long-term use.
3. Abu Garcia Pro Max & Max Pro Low Profile Baitcast
Perhaps one of the smallest reels on this list, you might be deceived into thinking that the Abu Garcia Pro Max doesn't pack some serious punch, but you'd be dead wrong! Its compact size makes it perfect for transportation and makes it a truly unassuming necessity for any prospective bass fisher.
The spool, used for gathering up the line tidily as you reel, is made up of aluminum, to allow for easy reeling, without creating tangles and knots that can significantly cut into your fishing time.
Untangling knots takes a long time that you'd probably prefer were spent waiting to catch that special fish! The spool itself makes up the bulk of this reel, which features few extra features, but has an incredible focus on ease-of-use, and durability. 
Attached directly to the spool is the ergonomic handle, used to crank away and pull the reel back in. This handle is designed to be comfortable for extended sessions, so if you find that a fish puts up more of a fight than usual, then you won't find your hands aching from the strain. This is perfect for catching bass, which tends to be more persistent fighters that require a measure of patience to catch. 
This reel also has a generous drag that ensures that the line is never put under extreme strain that might cause it to snap. This drag system will kick in automatically, as the reel notices when significant strain is being exerted, to allow for smoother operation, without needing to unreel the line yourself!
This is a perfect reel to grab if you plan on catching some bass, as you can easily swap it with other reels on the fly, thanks to its small size, and easy attachment to any rod of your choice!
Pros:
Entirely function-focused, with a small and compact size.
High-grade parts make it sturdy, and able to handle even the roughest of outdoor conditions or strong fish.
The small size makes it easy to swap with other reels on the fly, to make it easier to catch different types of fish, such as bass.
Cons:
Noisy during operation, which can be off-putting to some. 
The small number of extra features may make it less appealing to experienced users who want added customization. 
4. Lew's Mach I Speed Spool
Standing out from the crowd with its green and white color scheme, this futuristic-looking reel is perfect for bass fishers who want an advantage in catching their prized trophy.
One of the best reeling features on this alien-like fishing reel is the adjustable speed gears, These gears can be adjusted on the side of the device, to allow for differing tensions, to make controlling the speed of your reel far easier, to avoid snapping your reel, or otherwise losing you grip on a tricky fish.
The brake also makes it much easier to wrangle in a fish that won't stop fighting back, thanks to also having its own adjustable brake setting, with a click dial that can be used to control the magnetic brake.
You can activate and deactivate the brake as you see fit so that you can further adjust how you reel in your catch. The brake can also be set to activate automatically when a reel reaches a certain speed, so you can be sure that a good fish won't elude you any time soon.
The spool is also built to be durable and to feed the line efficiently onto itself so that you can avoid nasty knots and tangles. The spool can enter a state of drag, to allow some leeway to a persistent fish, and to avoid having your line snap mere moments before you get your catch, which can be incredibly frustrating.
You can sit back and enjoy your fishing trip thanks to this reel, which features comfortable grips, so that you can patiently wait for the right moment to strike on a catch, and then reel it in without worrying about your hands slipping all over the place. 
Pros:
The adjustable braking system makes it easy to keep a catch under control. 
The spool is durable and able to retake the fishing line in a knot-free manner.
Comfortable handle that is easy to grip, and to maintain a hold on.
Cons:
Can encounter trouble when exerting the reel.
The basic grip on the handles might be too slippery for some, but can be easily changed to suit specific needs. 
Lew's Mach 1 Baitcasting Reel
5. Piscifun Alijoz Baitcasting Reel
The most innovative feature of this incredible reel is perhaps its Thumb Bar Engage Button. This button allows the user to quickly disengage all gears, to allow the line and the spool to freely move about.
This is perfect when first casting out the line, to allow it to reach a fair distance. The thumb bar button also then makes it easy to quickly engage your gears, to allow you to quickly move from a relaxed waiting position to a ready reeling position. 
The high-quality components used in constructing this reel also ensure that you can make multiple uses of it every day for multiple years before ever encountering a problem. These materials also add to the reeling strength, allowing you to pull in even the toughest of catches that might pose a serious challenge to the average reel. 
With adjustable gears, you can also adjust the speed of your reeling easily when you need it, to allow for more tension in the reel, which makes it easier to reel slowly, or less tension, which makes it easier to quickly reel in a small fish before it can escape.
This makes the reel perfect for a wide range of fish of varying sizes, especially bass. You could comfortably rely on just this one reel for every fish you catch in a single day, or just as easily swap it out for another, thanks to its small size. And changing your line is easy, thanks to the access panel towards the side, which allows you to quickly access the spool.
Pros:
Easy to access thumb bar button makes it easy to adjust between two states of relaxed line tension to strong tension, so you can quickly react to a bite.
Can easily change your line, thanks to the easily accessible spool, which allows you to customize to your needs on the go. 
Strong gears allow you to adjust your reeling speed easily.
Cons:
The spool that is packaged with the reel is quite weak but can be easily swapped for any spool of your choice.
May need a slight amount of oiling on the ball bearings before first use, to allow it to glide much easier. 
6. Tailored Tackle Bass Fishing Baitcasting Combo
If you are looking to get your first ever reel for catching bass, then this is the product for you. Not only does this product come with the reel itself, built from high-quality materials to take on a massive range of fish, but it also comes packaged with a comprehensive guide to the art of baitcasting! This guide has everything you need to get started in the sport, and to easily catch your first fish using the method. 
The reel also comes with a packaged rod, which makes it even better for first-time baitcasters, who may not yet have a rod of their own. The reel itself can easily be attached and detached from the rod, to allow you to customize your use of it.
The reel also works to prevent knots, so that you can enjoy tangle-free fishing. Untangling a fishing line can be very difficult for a first-time fisher, so having the problem prevented is great. If the line does tangle, the spool and the line can easily be accessed at any moment, to quickly remedy the problem before it complicates itself!
The rod and reel are specially designed for first-time users so that they can learn the ropes in a stress-free manner with only the essential features at the forefront. There are few bells and whistles to potentially confuse the learning process, which further makes it a perfect starter set.  
You can also get to grips with gear-based systems, which allow you to easily change your reeling speed without straining your rod, which can be difficult for inexperienced users to control.
The gears allow you to create the perfect conditions for fast reeling, to catch smaller beginner fish, and then to increase the tension on the gears when you choose to take on some tougher fish. This allows you to quickly learn to take on a bass! 
Pros:
A great beginner rod and reel set to learn the ropes easily. 
Can be adjusted to suit different types of users, and can even be adjusted to be used by both left-handed and right-handed users.
Adjustable gears allow you to learn in comfort while also pushing yourself to step out of your comfort zone slowly.
Cons:
Not advised for experienced fishers, who may expect better customization and more features. 
The stock spool can be easily broken, so it is worth swapping it out with another before use.
7. Lew's Custom Inshore Speed Spool Baitcast Reel
With its flashy white and blue design, this reel certainly knows how to draw attention to itself. You'll soon be the envy of your fishing buddies with this reel, thanks to its ergonomic design which makes it comfortable to the eyes as well as to your hands.
You can reel in varying fishes, including bass, for hours a day, without ever once encountering problems. The handles are fitted with rubber grips that comfortably conform to your grip so that you don't end up straining or end up with painful blisters from reeling in a tough catch.
The reel is also lightweight, thanks to the carbon side plate and efficient craftsmanship within the inner workings of the device. This makes it perfect if you need an optional reel to attach to your rod, in case you are planning to catch a wide array of fish. 
You can also easily customize the brakes on this reel to allow for safer use, which also makes it easier to reel in a bass. You can also adjust gears, to increase the tension, and to allow you to reel in at different speeds, depending on what each fish requires from you. 
Lew's is a trusted brand with a healthy reputation amongst the fishing community. Their reels come highly recommended by expert bass fishers who need a level of precision that other reels just can't offer. If you need a truly competitive reel that will stand up comfortably to whatever you throw at it, you cannot go wrong with this.
Pros:
Perfect for more experienced fishers who want a competitive edge when it comes to catching the elusive bass.
Does not develop rust or mold, thanks to its one-piece frame design which also has numerous drainage points, so you can use it even in the worst conditions.
Every component is made from high-grade materials so that you won't have to replace it for many years! 
Cons:
Not recommended for beginners who may be daunted by the massive array of features.
The high price point makes it a considerable investment. 
Specification Comparison
| | | | | | |
| --- | --- | --- | --- | --- | --- |
| Baitcasting Reel | Gear Ratio | Ball Bearings | Retrieve Rate | Max Drag | Weight |
| RUNCL REMIEL | 7.5:1 | 10+1 | 29 inches/crank | 17 lb | 7.7 oz |
| KastKing Royale Legend II | 7.2:1 | 5+1 | 29 inches/crank | 17 lb | 7.2 oz |
| Abu Garcia Pro Max | 7.1:1 | 7+1 | 28 inches/crank | 15 lb | 7.4 oz |
| Lew's Mach I | 7.5:1 | 7+1 | 30 inches/crank | 15 lb | 7.3 oz |
| Piscifun Alijoz | 8.1:1 | 8+1 | 36 inches/crank | 33 lb | 11.3 oz |
| Tailored Tackle Bass Fishing | 6.3:1 | 6+1 | 25 inches/crank | 17 lb | 8.0 oz |
| Lew's Custom Inshore Speed Spool | 7.5:1 | 9+1 | 30 inches/crank | 20 lb | 6.9 oz |
Baitcasting Reel for Bass Buyer's Guide
Clearly, there are a lot of options out there when it comes to getting the perfect baitcasting reel for catching bass. However, with so much choice, it can be difficult to know exactly which reel is perfect for you. 
To help make your decision much smoother, we've put together this useful buyer's guide, so that you can learn all you need to know when looking out for a new reel for bass fishing!
Cost
You don't want to spend too much. This should be obvious, but when it comes to buying specialized equipment, spending too much can happen very often. Before you buy any baitcasting reel, you should determine your current skill level with such reels.
If a baitcasting reel is more expensive, then it is likely to have a number of extra features. If you do not know what those features do, or how to operate them, then it is not worth spending the additional money.
If you are in the market for your first ever baitcasting reel, then you would be best off looking for a cheaper model, to ensure that you don't overspend. 
This also applies to the reverse. If you need a high number of features or extra customizability from your reel, then it is worth springing for more expensive options so that you can have the precision that an experienced fisher needs.
Ease of Use
If you are new to the world of baitcasting, you will want to pick up a reel that won't put up a significant challenge. Spending money on a reel that will only confound you is pointless. Check to see if the reel you are interested in has the features that you want or need, and to see if it has any other quality of life improvements.
These can include such things as automatic drag systems, which prevent your line from snapping, or gear systems, to allow you to adjust your reeling speed to your comfort. You want your reel to be easy for you to use, not anybody else.
Adjustability
Getting the right product for a fishing trip can be difficult, largely due to the fact that getting a good feel from a rod or a reel is subjective. What feels good to one user doesn't feel as good to another.
You may want to swap out the spool from a reel or change your line thickness whenever you feel like it. In order to accommodate these needs, you may want to get yourself a reel that is adjustable. 
Check for things such as adjustable gears, or removable parts. If you plan to customize your reel to your needs, then it is well worth buying one that is accommodating towards customization.
Control
Using a baitcast reel requires more precision than the average reel and wrangling in a bass requires more of a sense of control, as the fish is famous for putting up a fight.
If you want good control, you will want to get yourself a reel with a strong crank system that also has comfortable handles that won't rub uncomfortably against your hands, which can make it hard to maintain control.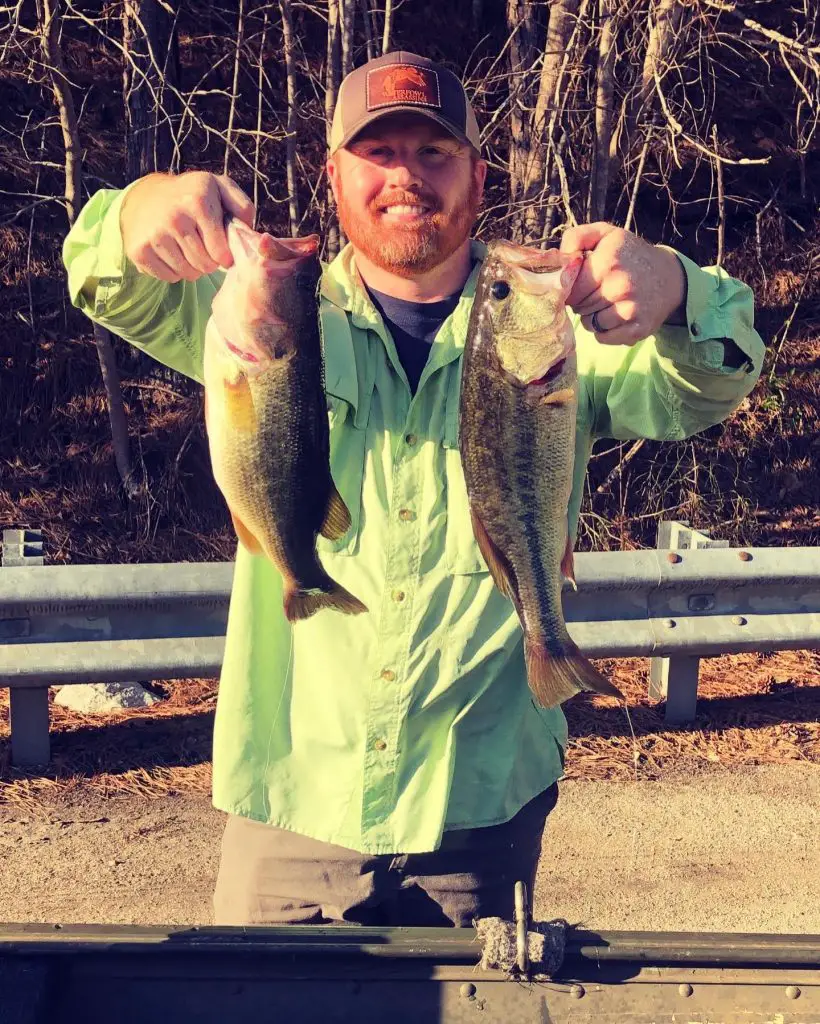 Frequently Asked Questions
What is the best rod length for bass fishing?
When catching bass, you want to ensure that your rod is able to handle the strength of the fish and to stand up against a degree of strain. In order to accommodate this, you should aim to have a rod of around 8 feet long.
This is because a rod of this length has good reach, and is more flexible than a shorter rod, which allows it to remain sturdy even when straining. 
What are 6 foot 6 rod good for?
Shorter rods are great for the amount of precision they can allow you. When aiming for a specific spot on a lake or a river, using a short rod allows you to hit specific spots, which makes it easier to catch a highly specific type of fish that might only appear in certain spots.
Final Thoughts
Catching yourself a large bass is incredibly rewarding, and is considered to be a milestone moment in any fisher's journey. Certain reels accommodate the needs of catching a bass better than others do, but the absolute best of all are baitcasting reels, which allow you to control every step of wrangling a bass.
Pick up one of the top seven baitcasting reels from the list above, and you'll be catching yourself numerous bass in no time!
Last update on 2022-10-05 / Affiliate links / Images from Amazon Product Advertising API