The best rods for spinnerbaits should possess medium-heavy power for larger lures, fast action for quick hooksets, and lengths from 6'6″ to 7′ for adequate casting distance. Key characteristics include solid construction, sensitivity to bites, and a comfortable grip for prolonged use.
The St Croix Victory Casting Rod is my top choice because it has a sensitive tip with a wide range of actions and powers. It features a 15-year manufacturer's warranty with a comfortable cork handle. It is ideal for anglers looking for the best of the best equipment that will perform even under the harshest conditions.
I have also written a guide to the best rods for chatterbaits that share a few options.
1. St Croix Victory Casting Rod
I have become a bigger and bigger fan of St Croix over the last few years. The more I use their fishing rods, the more I like them. When a manufacturer offers a 15-year warranty, you can understand how much faith they have in their product's quality.
The Victory is a premium casting rod built for professional bass anglers. There is so much technology built into this rod that I can't explain it all.
It is available in moderate to fast actions, and medium-heavy to extra-heavy power. It has fuji guides and a fuji reel seat. It also has a split cork handle design for comfort and reduced weight.
It is also made in America, which has boosted it to the top of my list.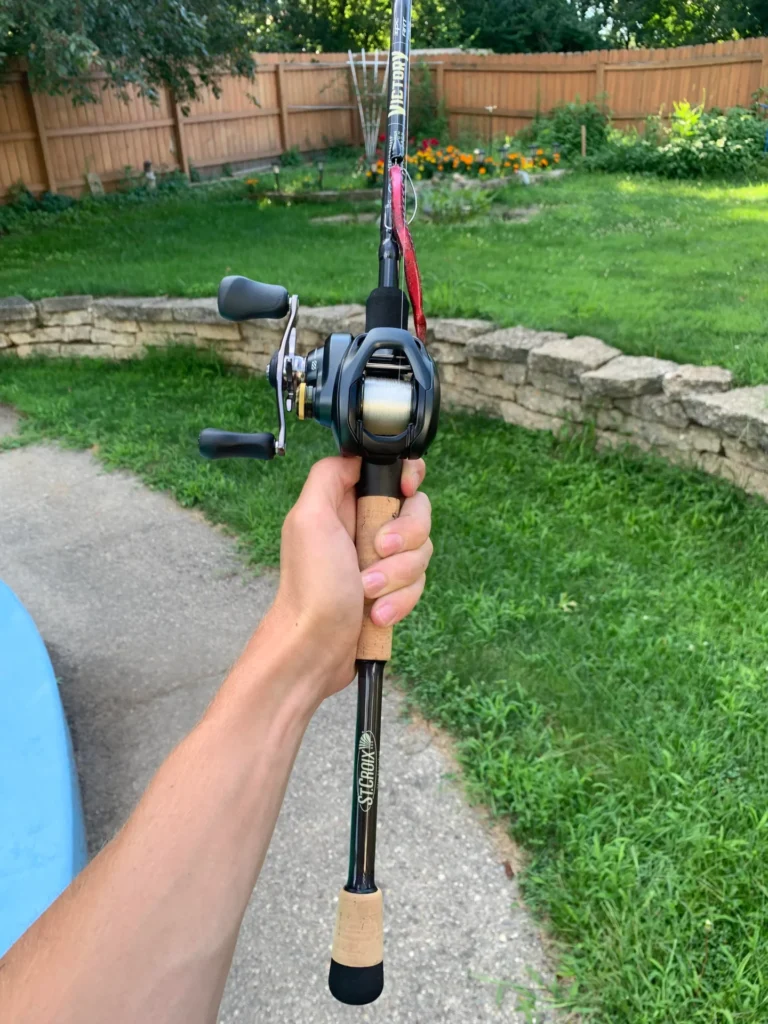 Pros
I am a big fan of cork handles because of their comfort and non-slip properties.
15-year transferrable warranty
Made in Park Falls, USA.
Cons
It is only available as a single piece rod which can be more difficult to transport and storage.
This is a premium rod with a premium price tag that won't fit in every anglers budget.
Made in Park Falls, USA
Advanced SCIII+ blank with super-high-modulus properties
Fortified Resin System adds maximum power and strength
2. Abu Garcia Fantasista Casting Rod
The Fantasista is Abu Garcia's latest generation of bass casting rods, ideal for spinnerbaits. It is made from premium carbon blanks and their proprietary Powerlux 500 resin.
Abu Garcia claim this is their most sensitive and lightweight rod. I really think this is perfectly designed for spinnerbait lures, especially if you pick the fast action models.
The guides are made from titanium alloy, and 8 to 10 of them depend on the rod length. This improves the distribution of strain and load across the fishing line, reducing the likelihood of breakage.
Pros
The Robotically Optimized Casting System allows for maximum casting distance.
Available in both split and full handle designs.
It is hard to find a better performing casting rod than this.
Cons
I prefer cork handles over EVA.
This is a very expensive rod, and is hard to justify the price tag.
Strong, yet balanced graphite and fiberglass construction
Durable one-piece stainless steel guides
7-year warranty
Comfortable EVA handle
3. St. Croix Mojo Bass Casting Rod
St Croix have quickly become one of my favorite fishing rod brands. They certainly target premium price tags, but their designs are hard to beat. The Mojo Bass Casting rod is no exception. It has the ideal combination of superior materials and targeted specifications.
I am a big fan of graphite blanks for lure fishing due to the reduced weight and improved sensitivity.
I also prefer cork handles, which remain comfortable and non-slip even when it rains. The Mojo also has the pistol grip design which is brilliant for improving your casting accuracy – a must-have for spinnerbaits.
There are also 2-piece options available for easier transport and storage, but I personally prefer single-piece rods for the improved sensitivity.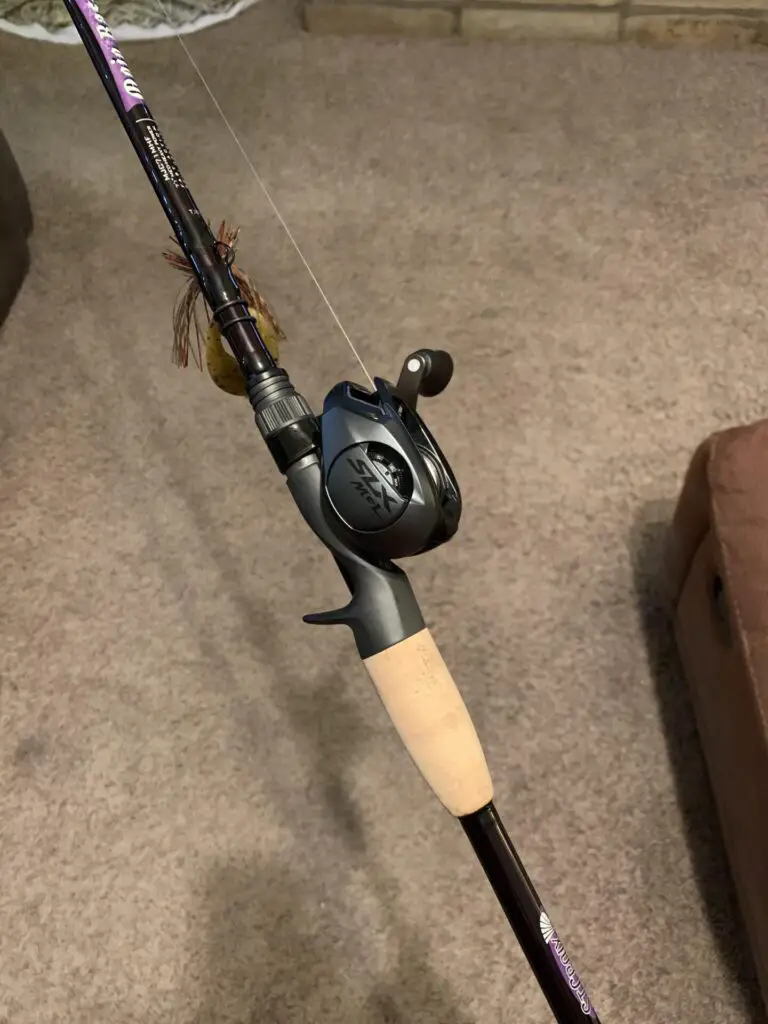 Pros
5 year manufacturer's warranty
Premium-quality SCIII graphite
Built specifically for bass casting in mind
Comfortable cork handles
Cons
Limited range of power and actions (but ideal for spinnerbait lure requirements)
Premium-quality SCIII graphite
Specifically designed for bass
Split-grip/premium-grade cork handle
4. Daiwa Tatula Baitcasting Rod
Last on my list is the Daiwa Tatula. It is available in both spinning and casting rods. The casting rod has a pistol grip design (trigger grip), which I love when requiring accuracy for spinnerbait lures.
It has 8-10 fuji guides, depending on the length that evens the strain across the entire rod. This reduces the likelihood of a fishing line breaking or abrasion at a weak point.
It is available in 6'9″ to 7'6″ lengths, so you can pick whatever suits your height and needs.
Pros
5-year limited warranty
Graphite fiber construction
Cons
Another reel with an EVA handle over my preferred cork
Only available in a one-piece design.
X45 Bias graphite fiber construction
Fuji K-guides with Fazlite rings
Split-grip handle design
5. Abu Garcia Veritas Rod
Abu Garcia has released their new Veritas design with ten titanium alloy guides. This provides a more even strain across the line and reduces breakage risks.
I love the all-white design, especially the handle grips, but I did notice that it can get dirty over time. After a year or two of use, the all-white becomes an all beige-design.
The split handle design is widespread among modern casting rods to reduce total weight. This is a lightweight rod due to its Powerlux 100 graphite construction which claims to reduce weight by 5% while increasing strength by 15%.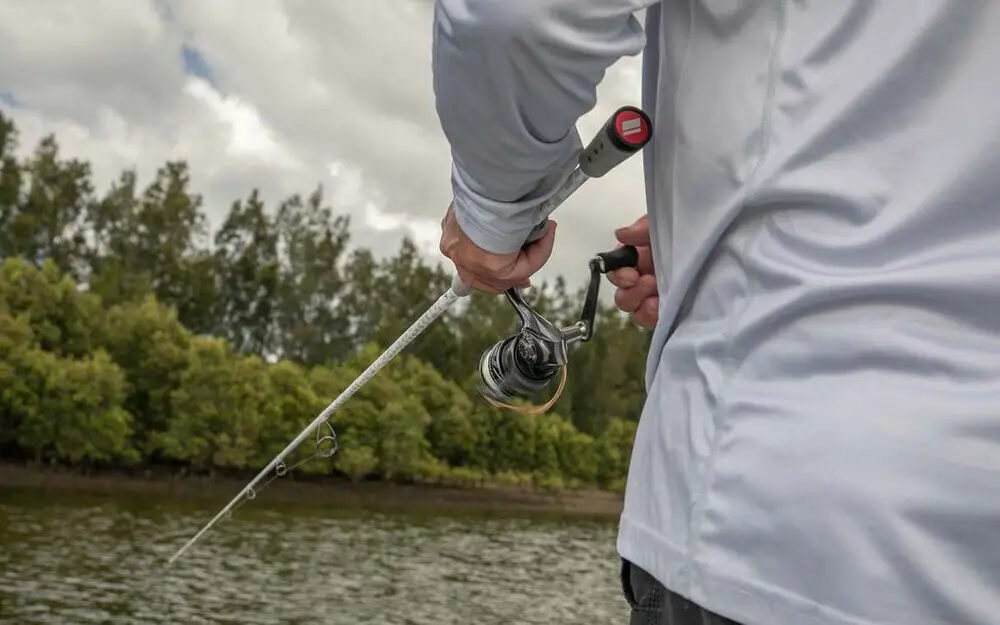 Pros
Extremely lightweight at only 4.6 ounces reduces muscle fatigue when frequently casting all day.
Aesthetically, the Veritas design is stunning – you will get positive comments!
Cons
The all-white handles get dirty over time, reducing the rod's aesthetic look.
I prefer cork handles over the EVA in this rod.
Strong, yet balanced graphite and fiberglass construction
Durable one-piece stainless steel guides
7-year warranty
Comfortable EVA handle
6. Lew's Custom Speed Stick
Number 6 on my list is the Lew's Custom Speed Stick. It is a moderately priced option that is very veratile and available in almost every model you can think of.
It is made from a graphite blank with fuji guides to help reduce the friction for longer casting distances.
It has a split grip EVA handle to reduce the total weight. It also features a stainless steel hook keeper, which helps improve long term longevity because you avoid damaging your guides by scraping a hook across them.
I like the pistol trigger grip design, which I often say improves casting accuracy, which is ideal for spinnerbaits.
Pros
Available in a wide range of lengths, actions, and powers.
Enough sensitivity that you will feel every bite.
Cons
It is only available as a single piece rod.
I prefer cork handles over EVA.
Strong, yet balanced graphite and fiberglass construction
Durable one-piece stainless steel guides
7-year warranty
Comfortable EVA handle
7. Ugly Stik Elite Rod
If I want a rod that I know will never let me down, I will choose an Ugly Stik every time. They are incredibly durable and are often described as indestructible. If you are worried about damage from bouncing around the back of your truck, then pick an Ugly Stik.
They are also extremely sensitive with a fast action tip. When it comes to bass fishing, the Ugly Stik Elite is a great option. For anglers who want a versatile option, choose the Elite. It may not be as specially targetted for spinnerbaits, but you can use it to fish almost any bait or lure for multiple species.
I also love the cork handles, which are non-slip even when raining or covered in fish slime.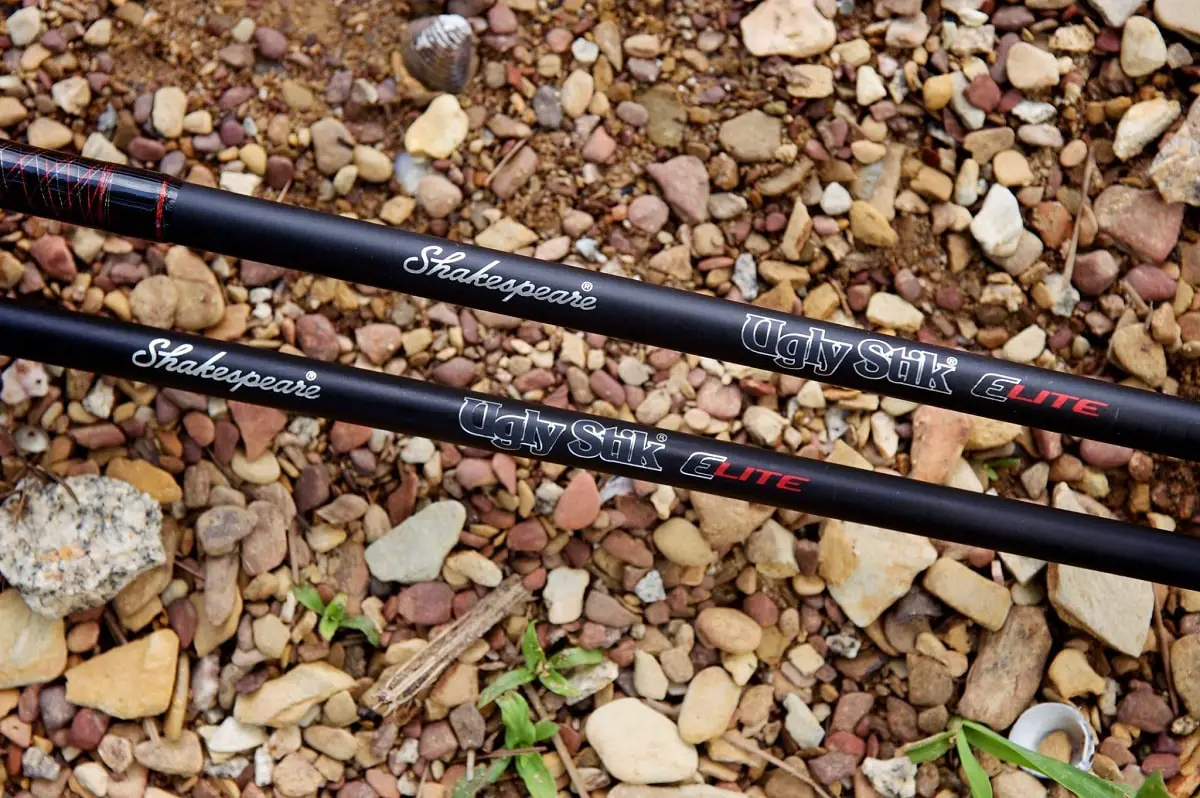 Pros
The best part of the entire rod stands at the two ends – the rod itself, which is made of graphite to decrease the weight and increase the balance in the system. The second one is in the grip of the rod – made of cork, it is the most comfortable
Cons
Extremely versatile but not as specialized for spinnerbait fishing as the other options.
Comfortable Cork Grip
Graphite/Fiberglass Composite
Virtually Indestructible
Ugly Tuff Guides
Spinnerbait Rod Buying Guide
Choosing the perfect spinnerbait rod is crucial for a successful day out on the water. With my years of fishing experience, I can guide you through the process.
Rod Length
Longer rods around 7 feet are excellent for casting spinnerbaits far off, especially when fishing from shore. A shorter rod could serve you better if you're fishing around tight spots like cypress trees. I once tried using a 7-1/2 foot rod around tight cover, and I can tell you it was a real hassle.
I recommend a 7 foot long rod as ideal for spinnerbait lures.
Rod Action
The rod action can significantly affect your spinnerbait fishing. A semi-limber rod might suit fast-reacting anglers, but if your reaction time is slower, you might miss fish with this rod. I remember using a limber rod in my early fishing days. It resulted in quite a few missed catches due to my slower reflexes.
I recommend a fast action rod for spinnerbaits.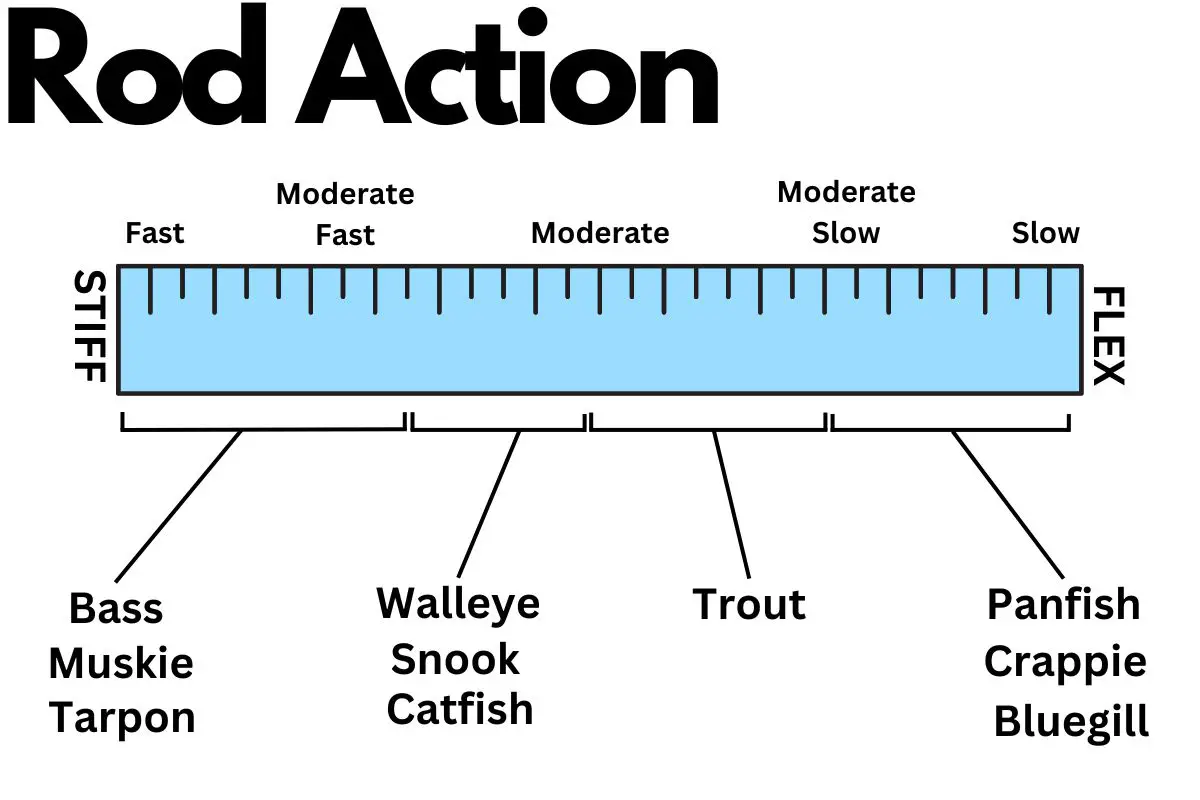 Rod Power
Medium-heavy power rods provide a good balance of strength and flexibility for spinnerbaits. They've helped me handle many large fish over the years. However, for more extreme situations, consider a heavier power rod.
I recommend a medium-heavy rod power for spinnerbait lures.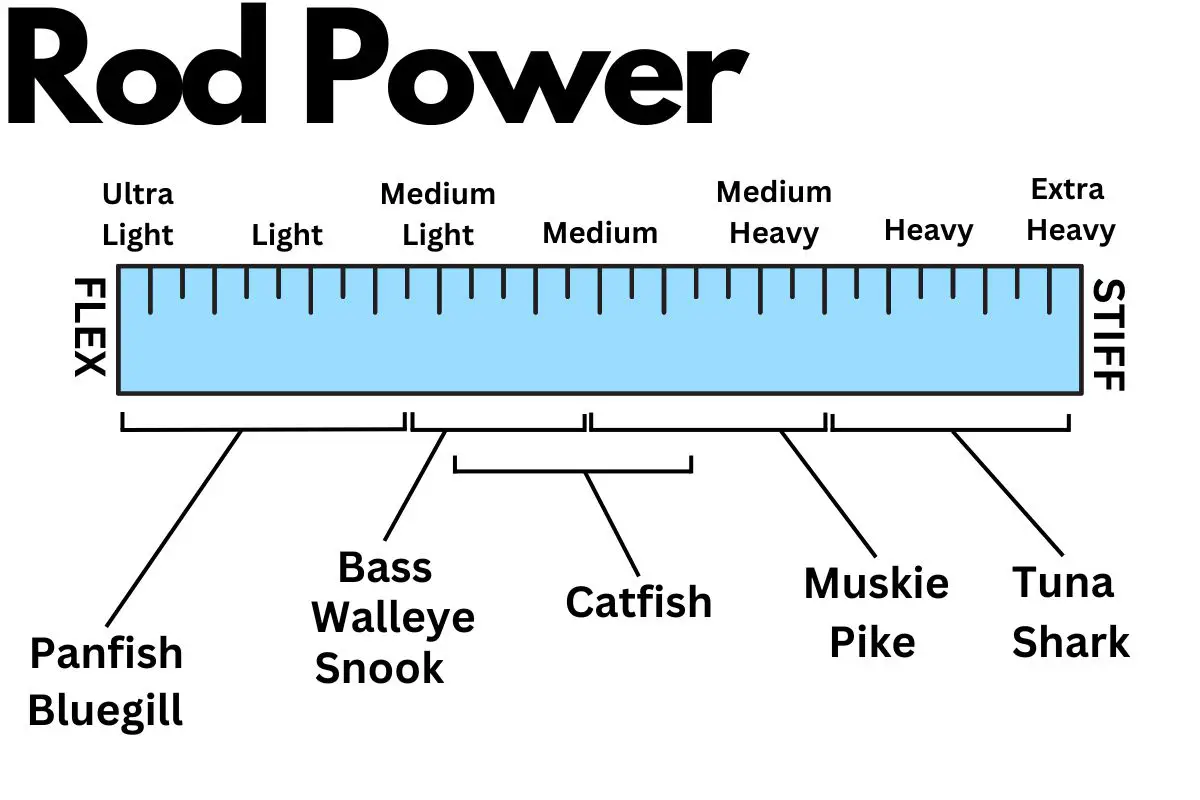 Construction Material
Choosing a rod with quality construction material is vital. Look for rods made from graphite or carbon fiber. They offer excellent sensitivity and durability. I've been using a carbon fiber rod for years, and it hasn't let me down once.
Graphite
Graphite rods are known for their sensitivity and lightness, which is especially useful when fishing with spinnerbaits. The high sensitivity of graphite allows you to feel even the smallest bites, which can lead to more successful hook sets.
They also offer more strength and stiffness (often referred to as "power") than fiberglass rods, making them a suitable choice for larger, heavier fish and spinnerbaits that must be cast further distances. When I've fished with a graphite rod, I've appreciated its balance of strength and sensitivity, allowing me to detect bites and handle big fish quickly.
However, the trade-off for graphite's sensitivity is that it's less durable and more prone to breaking than fiberglass. Additionally, its high sensitivity might not be ideal for beginners who could mistake any vibration for a fish strike.
Fiberglass
Fiberglass rods are renowned for their durability and flexibility. A fiberglass rod could be your ally if you're fishing in areas with heavy cover where your rod might take a beating. I've used fiberglass rods in such situations, and they've never failed me.
While they're less sensitive than graphite rods, their durability makes them a good choice for rough conditions or beginners still learning to handle and care for a rod.
Regarding spinnerbaits, fiberglass rods can handle the weight of these lures and cast them efficiently, although they might lack the sensitivity to feel subtle bites or the lure's blades turning.
Tip Sensitivity
Good tip sensitivity is crucial when spinnerbait fishing. It lets you feel the blades turning and know when something unusual occurs. I've often detected light-striking fish and fouled spinnerbaits thanks to my rod's sensitive tip.
Type of Rod
You can choose between two main options – spinning and casting rods. This depends on the type of reel you are using, and I would let that dictate your choice.
Casting Rod
Casting rods are more specialized and are the go-to choice for experienced anglers using spinnerbaits. They have more power, enabling you to cast heavier lures further and more accurately.
This is particularly useful in spinnerbaits because these lures often need to be cast with precision around structure to provoke strikes. They also offer more control when fighting a fish.
Casting rods are designed with their guides on top, reducing the chances of line tangling when casting heavier lures. Their stronger backbone makes it easier to retrieve spinnerbaits through thick cover without the rod flexing too much.
But remember, casting rods require more skill to use effectively, especially when mastering the casting reel to avoid the dreaded "bird's nest" of tangled line.
Spinning Rod
Spinning rods are user-friendly and versatile. They're generally easy to handle, making them popular for beginners or those fishing in tight areas where precision is essential.
When using spinnerbaits, spinning rods can be effective, particularly for lighter lures or when you need to make longer casts with lighter line. They tend to have smaller guides lined up along the bottom of the rod, allowing the line to flow freely for longer casts.
Conclusion
When picking a fishing rod for spinnerbaits, choose a fast action, a moderate-heavy power, and a lightweight design. I recommend a St Croix Victory fishing rod as the best rod for spinnerbait lures.