Tarpon is one of the most popular fishing species in Florida. Also known as the Silver King, the Tarpon can grow up to 7 feet long and over 200 pounds. They are a brilliant game fish to go after, and these are some tarpon fishing tips to help you to hook your first one.
They are extremely acrobatic and often jump fully out of the water during the fight. This means you need to have special tackle to be able to handle their aggressive head shakes – don't lose a fish because of bad gear.
This article is designed to help beginners learn enough about tarpon behavior to be able to hook their first big Flordia tarpon.
7 Tarpon Fishing Tips
Tarpon are an iconic fish of Florida and should be treated with respect. They fight harder than most game fish and can be extremely difficult to land. They also have special regulations and cannot be removed from the water for their own protection. Make sure you read through the local regulations to stay up to date.
Best Month for Tarpon
Peak Tarpon season in Florida is mid-March to mid-July. Tarpon are migratory and prefer stable water temperatures of around 79 degrees fahrenheit.
Best Time of the Day
Tarpon like moving water and are often active on the incoming or outgoing tide. They seem to be less affected by dawn and dusk.
Tarpon don't like windy days, so pick calm days.
Best Bait for Tarpon
Pilchards, mullet, and pinfish are popular live bait. Live shrimp and blue crabs are also popular as bait. Even a blue crab as small as a silver dollar can be appetizing for a 100lb fish.
Use a large float above the live bait to keep it upright. Put out 3-4 different types of bait at the start to figure out what the tarpon are hungry for.
Best Lures for Tarpon
Some popular artificial lures include gator spoons, Rapala lures, and plastic worms. One of my personal favorites is the Yo-Zuri jerkbait that has a great presentation and you can adjust your retrieve rate to control the action.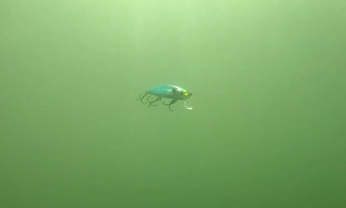 Remember to remove any Boca Grande jigs from your tackle box. They have been ruled illegal by the Florida Fish and Wildlife Commission. They became popular because of their success in catching tarpon, but controversially, many fish caught were foul-hooked. The heavy weighted head of this jig meant that the lure could be dropped down and pulled up through a school of tarpon. Any jig where the weight is suspended below the hook is banned.
How to Strike for Tarpon
Wait 1-2 seconds before setting the hook to ensure the tarpon has fully swallowed the bait.
Be prepared for the fish to break free – fishermen often talk about how many tarpon they jumped rather than landed as it is very difficult to bring them all the way to the boat.
Bow to the King
When the tarpon jumps, drop the tip of your rod. This gives them more slack in the line and prevents you from pulling the hook out of their mouth.
You will most likely lose a fish when they jump into the air and shake their heads. This puts huge pressure onto the line and can force the hook free. Experienced tarpon anglers will drop the tip of their rod when the fish jumps to reduce the tension on the line and keep the hook stuck in the tarpon's hard jaw.
Catch and Release
Tarpon can be hurt by lifting them out of the water with a gaff, so try and remove the hook and release them without removing them from the water. Tarpon can only be caught and released in Florida, so make sure you understand all the regulations before heading onto the water.
All tarpon over the size of 40 inches must remain in the water.
Everything should be done to protect these fish from surviving their battle. This includes using a barbless circle hook. You should also use a hook removal tool to protect this iconic fish in the long term. You should also move locations if you see sharks lurking nearby, so they don't eat your tired fish immediately after you have released it.
Recommended Tarpon Fishing Gear
Tarpon fishing is very different from smaller, docile freshwater fish. They are aggressive and strong and require much heavier gear.
Prepare your tackle – tarpon are strong, aggressive fish so you want to have strong enough line and knots so that you don't lose them when they jump and shake their head.
Use a heavy fluorocarbon leader to prevent being cut off by the powerful fish head shakes.
Set your drag to 20-25% of your line strength.
Summary of recommended tarpon fishing gear:
Tarpon have sharp scales and hard mouths, so wear fishing gloves to protect your hands.
When you see a school of tarpon with a good pair of polarized sunglasses, drift with your boat, and cast to the other side of the school, slowly retrieving your lure or live bait through them – and hold on!
Tarpon Fishing Tips Video
It can be difficult to understand what you are going up against when going tarpon fishing just by reading text – you need to see these aggressive, powerful fish in action. Below is a good video showing how tarpon will react in Tampa Bay and is a good starting point.
Conclusion
Tarpon are fantastic 'catch and release' fish that will shock you with their strength and acrobatics. They are one of the most popular fish to chase in Florida and can grow to huge sizes. While hooking them is not particularly difficult, landing one is insanely hard.
Hopefully, these tips have given you a better understanding of tarpon behavior and how to catch them. We always recommend going out with a local charter or experienced angler to learn from them on the water before going out on your own. There is only so much you can learn from your computer screen.
If you have caught tarpon before, please leave a comment below with your tarpon fishing tips to help everyone learn, and we will continue to update this article to become the key post on tarpon fishing.
We have also put together an article on other freshwater and saltwater fish species to help you catch more fish.
Happy fishing!