The selection of the perfect reel for walleye fishing depends on your fishing style and preferences. What may work well for others may not work for you. However, there are some basic things to understand about reels in general and reels that you need for walleye. Here we have put together Fishing Reels for Walleye Buying Guide that should help you understand this critical fishing gear.
Walleyes are one of the best freshwater fish but also one of the trickiest to catch. That makes a case for deploying the right fishing gears and techniques. It's also important to know where precisely the walleyes are in a lake.
Do ice fishing reels play a role in improving an angler's chances of catching walleyes? In this post, we will focus our discussion on Fishing Reels for Walleye Buying Guide.
If you are looking for more equipment for walleye please read our guide on Walleye Rods and Fishing Line.
Quick Summary – Best Walleye Spinning Reels
If you are planning to fish Walleye and you have not yet bought any fishing gear here is some advice. Instead of focusing on a rod or reel, you should get a combo that's optimized for Walleye fishing. You will not have to fork out too much. A budget of $75 to $125 can get you a good combo of rod and reel for your walleye fishing. 
What you should aim for is a medium-length (6'6″) and fast-action rod and a medium-sized reel (3500). With this combination, you will be able to fish with all prevalent techniques – trolling, spinning, and jigging — for walleye fishing.
But if trolling is off your menu, you can do well with a 6′ medium light and fast action rod paired with a medium-sized reel (3000). This kind of setup will give you feedback on even subtle strikes. Walleyes can be easily missed even as they slurp the bait.
For walleye fishing, you need a reel that is tough and high-range. It should have a strong metal body, a bail wire, side plate, and rotor. This build quality will ensure the gear is durable and going to withstand nasty fishing conditions.
But while preference should be given to good build and durability, you should be wary of too heavy reels. They are going to create many problems for you. The best option is to choose a reel that makes a fine balance between durability and weight.
Some important points to consider:
The reels that use carbon washers rather than felt washers tend to have a longer lifespan.
When you choose a more powerful drag, you should make sure its power does not affect the smoothness of the operation.
A reel with anti-reverse technology is a better choice as it removes the back play once you have set the hook.
A reel with sealed ball bearings is considered better as it does not promote corrosion and rusting.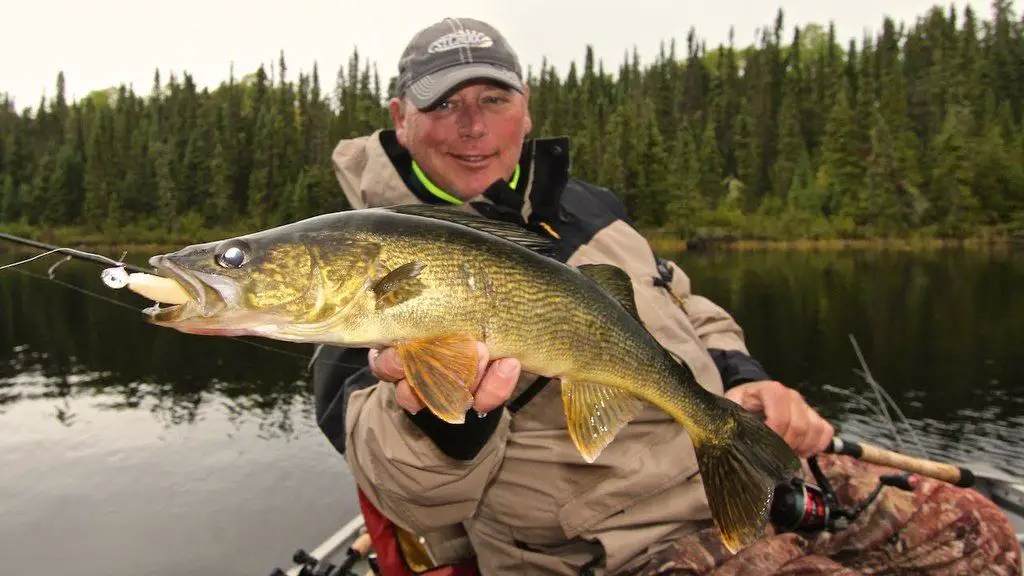 How to Choose a Walleye Reel?
This depends on what technique you are going to use for catching walleyes. The two most popular techniques are casting and trolling.
You can also choose both of these techniques. The best reel for walleye will vary on the fishing technique you use.
Size
We recommend a 3000 sized reel for walleye.
This is large enough to handle even the largest walleye you will strike but also light enough to be comfortable fishing with all day. This will also keep your costs down so you don't overpay on capacity you will not need.
You could also go for a 2500 size reel however this could be stretched to its limits when you get that large walleye you have been dreaming about – and that is not the time you want your gear to let you down.
Casting
If you plan to cast spinners, jigs, soft baits, and similar lures, you will need the right size of spinning reels. This kind of reel will help you fish walleye even in windy conditions that Walleye like. This is a proven technique to fish Walleye from Missouri to Great Lakes.
But if trolling is on your mind, you will need a spinning reel that offers greater precision. A conventional reel with a line counter is a better option. The right-sized reel can control the trolling depth more precisely.
For shorter duration of walleye fishing, both conventional and spinning tackle can handle the situation. But if you make your reel align with what you are going to do the most, your fishing experience will improve. 
Capacity
While there are many options when it comes to the line that you can use for your Walleye fishing, your walleye reel should be big enough to hold about 120-150 yards of 8-pound mono. A little variation can be okay but you surely don't need ultralight or too heavy reels.
Drag
The drag function of your reel is very important. It puts a consistent resistance to the movement of the fish. It is as important for walleye as it is for any other fish. For walleye, you don't need to use a heavy line. This means you need a low but smooth and reliable drag. The maximum drag that your reel can exert on the fish is of no use as far as walleye is concerned. You will not need to use the drag to its maximum capacity. For even the most powerful fish, a drag of 15-pound is just enough. For walleye, however, a much lower drag can work well just that it has to be smooth.
The drag setting of your reel should be about 1/3 of your line's tensile strength. A good drag walleye reel will release the line smoothly. There should be no skipping or binding no matter if you are using a 12-pound braid or 6-pound mono.
Gear Ratios
The gear ratio is another important consideration while choosing the best reel for walleye fishing. A gear ratio tells you how much of the line is produced from the spool by each crank. For example, a gear ratio of 5.5:1 indicates that the spool spins 5.5 times by each crank.      
The gear ratio matters when you have suddenly a lot of line to the wind. This can happen when you are casting far away in the water or when fishing the bottom. In these two cases, a high gear ratio and high retrieval rates will save time. Sometimes, a big walleye fish you had been fighting may suddenly turn towards your boat.
In this case, it is important to keep your fishing line tight. For this, you need to have a high retrieval rate.
10 Best Fishing Reels for Walleye
1. KastKing Centron Spinning Reel – Best Value for Money
Bestseller No. 1
The KastKing Centron is our recommended best value for money walleye fishing reel.
It comes with 9+1 ball bearings, a graphite frame and rotor, aluminum spool and handle, and a triple disc drag.
Reel sizes are available from 2000 to 5000 sizes and gear ratios of 5.2:1 to 4.5:1.
If budget is a concern but you still want a high-performing reel then check out this KastKing model.
2. Penn Pursuit Spinning Reel – Best Budget Option
Bestseller No. 1
The Pursuit is one of Penn's most affordable options. It is suitable for all kinds of fishing such as inshore, lakes, streams, rivers, and both freshwater and saltwater.
It has a sealed drag system which is a level above shielded systems. It comes with an instant anti-reverse feature to eliminate backplay.
It is lightweight and durable. Penn are one of the United States favorite domestic manufacturers.
3. Pflueger President Spinning Reel – Best Overall
The Pflueger President is a favorite reel design among walleye anglers. With 10 corrosion resistant stainless steel ball bearings this reel has an extremely smooth retrieve that won't degrade over time. This reel will be just as smooth in 5 years as it is today.
The body is made from graphite as most modern fishing reels are these days. It has a standard 5.2:1 gear ratio which is suitable for anything from crankbaits to live bait.
It also comes with HT100 drag washers which are first class materials in modern designs.
This reel has high performance and is made from long lasting materials in a modern design. It is remarkable that all of this technology is available at this price point.
Hard to go past the Pflueger President.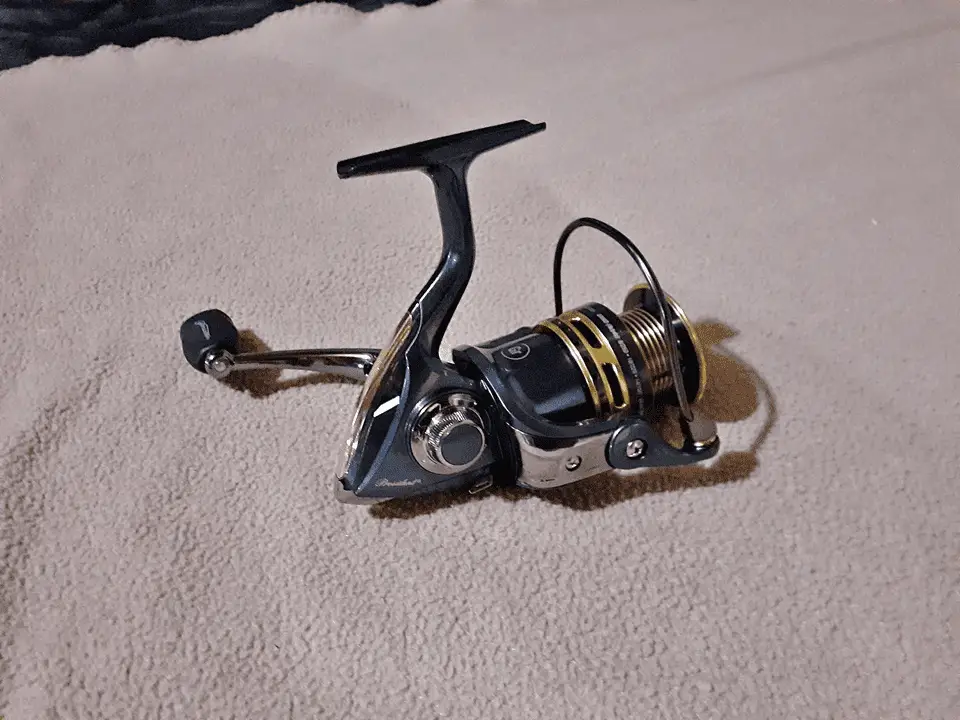 4. Okuma Ceymar Spinning Reel – Best Lightweight
The Ceymar is our favorite ultralight design. At only 8 ounces in weight you can just keep casting all day. This compact design is both strong and durable.
It is made with aluminum components that is ideal for saltwater.
One of the design features is the highspeed RESII computerized balancing rotor. This makes casting and retrieving much smoother than old fashioned models.
It comes with 7+1 stainless steel ball bearings.
5. KastKing Sharky III Spinning Reel
Bestseller No. 1
Another reel by KastKing is the Sharky 3 model. This is a powerful reel with up to 40 lbs in maximum drag. It has a stainless steel main shaft, triple disc carbon fiber drag, and manganese brass pinion gears.
It comes with 10+1 ball bearings that are shielded stainless steel.
Some of the other features include instant anti-reverse lock, aluminum handle, and extra line capacity.
This reel has some remarkable features at this price point. It is certainly worth investigating further.
6. Piscifun Flame Spinning Reel
Piscifun are one of the most interesting manufactures in the marketplace. The Piscifun Flame is named after its stunning design with a matte black body and red aluminum spool.
It is very lightweight at only 8.5 ounces, and has up to 20 lbs of maximum drag. This is a powerful reel that is well designed.
It comes with brass pinion gears and triple drag washers with a reinforced metal main shaft.
The 9+1 ball bearings give it a smooth retrieve, and combined with a braid ready spool it is even easier to set up and use. You will be on the water in no time.
7. Abu Garcia Revo SX Spinning Reel
The Abu Garcia Revo SX is a brilliant spinning reel at a great price point. It is durable, strong, made from high quality materials, and will perform.
The black and red design is striking and stands out, and the latest model comes with a noticeable reduction in weight.
Available in a variety of sizes, the SX30 is perfect for walleye and gives you some versatility for other species.
8. Yoshikawa Baitfeeder Spinning Reel
The baitfeeder is one of the best reels that Yoshikawa have produced. It has a gear ratio of 5.5:1 and is available in 3000 to 6000 sizes, with the smaller size suitable for Walleye fishing.
It is made from TITAN graphite which makes it both durable and light. With 10+1 ball bearings this reel is noticeably smoother than the other small sized reels in this category.
9. Shimano Spirex Spinning Reel
Bestseller No. 1
Shimano are one of my favorite reel manufacturers – the name guarantees quality workmanship. The Spirex comes with a higher gear ratio of 6.2:1 so is more suitable for faster retrieving lures like small bladed spinnerbaits.
It is made from a graphite frame, rotor, and side plate for increased strength and reduced weight. It also comes with some of Shimano's technology features like the Propulsion Line Management System which gives extra casting distance by reduced friction.
It also has 6 stainless steel ball bearings for improved corrosion resistance. This is a reliable performer at an affordable price.
10. Daiwa BG Spinning Reel – Most Durable
The Daiwa BG has a black anodized body and an ABS spool. It is braid ready and has an aluminum handle. This reel is uniquely designed with an Air Rotor that is 15% lighter than alternative designs.
It is made with the proprietary 'Hard Bodyz' components that make it a durable, hard fish fighting machine.
This reel has an oversized digigear system and has a higher retrieve rate of 40″ per crank.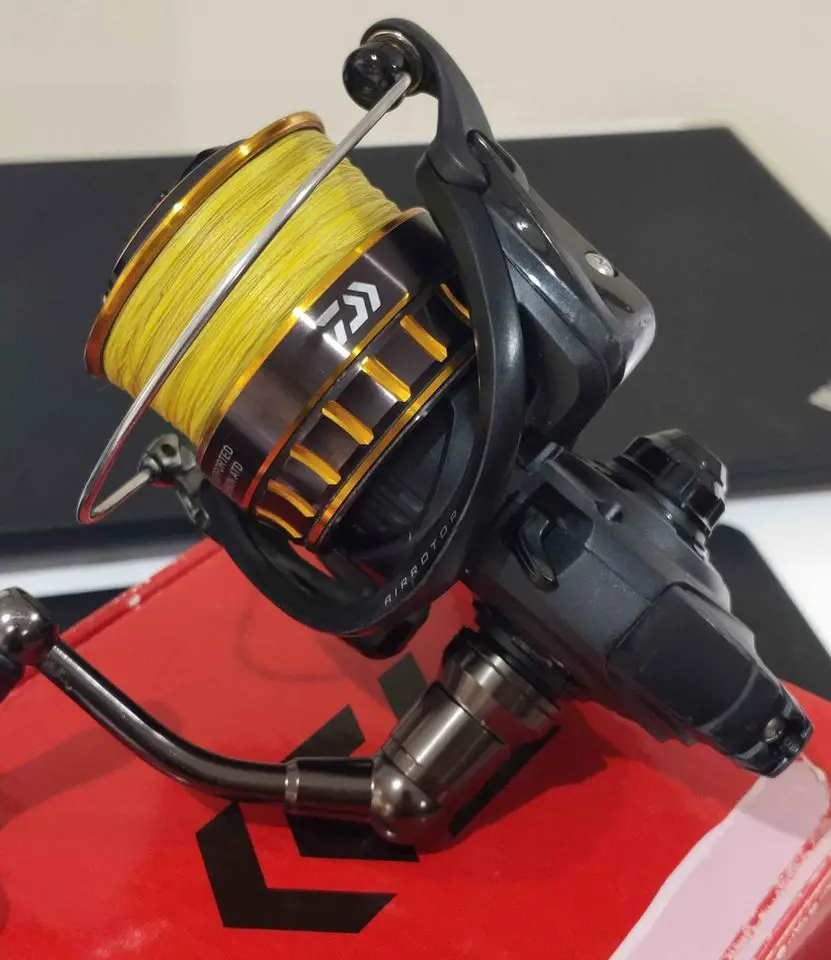 Frequently Asked Questions
How much line capacity do you need for Walleye?
We recommend 150 yards of 8 lb mono line capacity on your spinning or baitcasting fishing reel for walleye.
What size reel for walleye do you need?
Generally, a 2500 to 3000 series spinning reel will suit most walleye. If you are going to target larger fish with the same combo then you might want to consider a 3500 series model for more versatility.
What is the best gear ratio for walleye?
A gear ratio of 5.5:1 is ideal for catching walleye. This gives enough retrieve rate to use a wide range of lures without impacting the torque available in the reel.
How much max drag for walleye?
15 lb of max drag is sufficient to catch even the largest walleye.
Final Thoughts
The kind of reel you may need for walleye depends on your fishing technique. If you are going to use most troll-fishing, a conventional reel is the best choice. But if you plan to use casting methods of throwing spinners, jigs, and other lures, a spinning reel is your best choice.
These are two broad parameters, and you may have many good choices in between these two types of reels. 
Last update on 2022-09-09 / Affiliate links / Images from Amazon Product Advertising API