The Shimano brand is known throughout the fishing industry as a company that produces some of the best spinning reels you'll find anywhere. The brand is best known for having reels that are silky-smooth, as well as having internal components that are precisely-machined to deliver an exceptional performance. The Shimano Nexave FE features a very sleek, elegant design with its silver coloration being well-complemented by a deep blue coloration on the spool portion of the reel. 
This is one of the more affordable reels in Shimano's lineup that most anglers could potentially purchase. It has even been designated as one of the best spinning reels currently on the market that's available for under $50. Most users agree that the Nexave FE feels more like a premium reel than one that's among Shimano's budget. The reel offers a wide range of great features that stand out among other brands and reel models that are sold at relatively similar prices. 
In this article, I will more closely examine the Shimano Nexave FE and point out how these features work together to present the angler with an incredibly-smooth casting and reeling experience. This information is all based on my own insights as an experienced fisherman and hands on testing.
Shimano Nexave FE Overview 
The Shimano Nexave FE is very popular across much of the world as it is mostly known as one of the more affordable reels made by the company that also delivers smooth and precise performance. The Nexave FE line of reels is a special blend of quality and affordable cost that is truly rare when you look at what Shimano reels have long been best known for. It's truly hard to beat them in terms of their smooth action, even despite the reel having just 3 ball bearings. 
The Nexave FE has a very comfortable feel in the hands of any angler and is perfect for beginners and novice anglers to use. The internal components and overall construction of the Shimano Nexave FE are made to set this reel apart from the competition in a variety of different ways. 
The reel offers a body that's made of XT-7 material, which is highly durable and has been scientifically designed to be incredibly lightweight and, yet, tough at the same time. The reel is also equipped with an Anti-Reverse switch that makes it very easy to allow the reel to work backwards and unwind as much line as you want. 
The Nexave FE's stainless steel ball bearings help to create a highly-smooth performance when casting and reeling in your lure. In fact, most anglers are surprised to learn that the reel only has a 3+1 bearing system because it actually feels more like a premium model with extra bearings. You'll also find a more adjustable drag system than most of Shimano's other reels that are among their lower-tier products. 
Construction Material 
Shimano prides itself on being able to produce reels that are incredibly lightweight despite the fact that the Nexave FE lineup's reels are made with an outer protective material that is known as XT-7. This material is able to provide great protection, even with a somewhat lighter overall weight than other reels in the same class. The smallest model weighs just 7.6 ounces, but the reel models become slightly heavier as the size increases. The largest of the reels are the Nexave FE 6000 and the FE 8000, tip the scales at just 21 and 20.5 ounces, respectively. 
There are no major flaws in terms of the Shimano Nexave FE's overall design, especially as it relates to the reel's toughness and durability. The Nexave FE's weight is a bit heavier than some of the brand's more premium lineups, but that is to be expected when dealing with a more budget-friendly model that utilizes a less costly material to achieve this lightweight feel in the hands of the average angler. 
3+1 Ball Bearings System 
The Shimano Nexave FE is equipped with 3 stainless steel ball bearings that are exceptionally well made. These bearings help to give the Nexave FE a feel that's closer to what most anglers might consider to be a premium reel model instead of one that's an obvious budget reel. These bearings help to greatly reduce the amount of friction that can happen in each cast and retrieve, as well as giving you protection from the usual dirt and grime that can often accumulate inside the reel over the course of a few years. 
Gear System and Ratio 
The Shimano Nexave FE offers a variety of different gear ratios depending on the particular size of the reel and s pool, as well as a few other factors. The Nexave's smallest model, the 1000, comes in with a 5.0:1 gear ratio while all of the other sizes feature either a 6.2:1 or 5.8:1 ratio. These ratios are ideal for being used in a wide variety of different methods and techniques in both freshwater and saltwater. 
There are two specific sizes that are quite different, however. The much larger Shimano Nexave FE 6000 and the Nexave FE 8000 both feature a 4.9:1 gear ratio that is designed to give you a great deal of power when dealing with bigger fish that might pull much harder than others. 
The 6.2:1 gear ratio gathers up line much more quickly than most other spinning reels that are available for the same or very similar price point. The reel models that are capable of having this faster retrieve are well-suited for using with certain types of lure presentation that require the angler to jerk or pop the lure across the water or through it so that you can still pick up most of the slack with just a few cranks of the handle. 
Variable Speed System 
The Shimano Nexave FE's most intriguing feature is easily the Variable Speed System, which is made to gather the line onto the spool in a very well-balanced and level manner. This goes a long way in helping you avoid tangles and kinks that so often cause a great deal of headaches on the water. 
The Variable Speed System actually manipulates the oscillating gear that affects the travel of the spool up and down as the reel is being retrieved. Without this key feature, the line would likely bunch up on one end of the spool and cause serious problems. This system is incredibly useful in making sure your line on the spool remains perfectly level and isn't collecting in bunches on one end. 
Super Stopper 2 
The Nexave FE is also equipped with another very impressive feature that works to increase the overall performance of the reel when it is used properly. The Super Stopper 2 is basically a roller-bearing that is located inside the reel's internal components that works to prevent the handle from being turned backwards at any time. This is an added bonus that most reels near the same price point simply can't match. 
Other Notable Features 
The Shimano Nexave FE also provides a brake mechanism that is mostly designed to help eliminate or significantly cut down on the amount of friction that the internal discs might provide. The brake works to provide enough locking pressure to prevent the user from losing control over the lure. 
Anglers will also appreciate the fact that the Shimano Nexave FE is made with a Propulsion Line Management system that is specially-designed to help you get much more distance out of each cast than you would without it. The system basically operates using an extended spool lip that helps to extend your casts while also working to prevent backlash and other problems that can arise from bunched-up line on the reel. 
The reel's aluminum spool also works to provide a much more balanced casting mechanism that feeds line off the reel in a more accurate manner than it might with a spool that's made of other material. This might seem like an insignificant feature, but it is proven to increase the overall accuracy of your casts.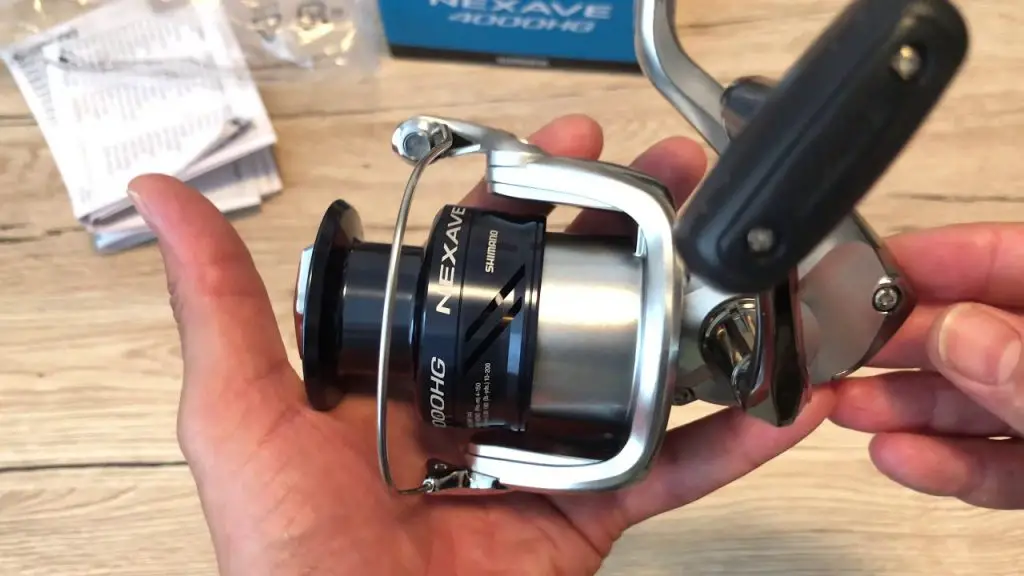 Pros
I did find the combination of Shimano's technologies did seem to increase the casting distance and accuracy. This is always hard to prove, but in my testing it worked quite well.
This reel has a high retrieve rate of 35 inches per crank which is particularly useful for fast moving lures like spoons and jerkbaits.
Cons
The 1000 size model has fairly different specifications to the other options. It has a much slower gear ratio, low retrieve rate, and a very low line capacity. I would almost be tempted to treat the 1000 size option as a different type of reel.
The weight is more than other options for similar sized reels – this can result in more muscle fatigue over a long day of casting.
Other Brands and Model Comparison
The Shimano Nexave FE might compare to a number of other reels on the market today. One of the main characteristics that it shares with many other models from other companies is the fact that it can be purchased for just $50. This is a rate that most anglers can typically afford and investing the extra money will serve as a good investment in the quality of your gear and the overall performance you get from your reel on the water. 
The Nexave FE is probably closest to the Pflueger President in a number of ways. The Nexave FE is arguably the better of the two reels and many users would likely point to the fact that the Shimano brand reel gives you a much more smooth experience and better overall quality. 
This table shows the differences in key specifications between the Shimano Nexave and Pflueger President for the 2500 sized model.
| | | |
| --- | --- | --- |
| Key Specifications | Shimano Nexave | Pflueger President |
| Gear Ratio | 6.2:1 | 5.2:1 |
| Retrieve Rate | 35 inches per crank | 22.4 inches per crank |
| Mono Capacity | 200 yards of 6 lb | 140 yards of 6 lb |
| Max Drag | 9 lb | 8 lb |
| Ball Bearings | 3+1 | 10 |
| Weight | 9 oz | 7.5 oz |
You can clearly see that the Nexave is a heavier reel with a faster gear ratio and more line capacity. While it doesn't have the same number of ball bearings it does has plenty of Shimano's latest technologies to give it a smooth retrieve.
Specifications
| ITEM CODE | MONO LINE CAPACITY (#TEST/YD) | WEIGHT (OZ) | BEARINGS | GEAR RATIO | RETRIEVE PER CRANK (IN) | POWERPRO BRAID (LB/YDS) | MAX DRAG (LB) |
| --- | --- | --- | --- | --- | --- | --- | --- |
| NEX1000FE | 2/270, 4/140, 6/110 | 7.6 | 3+1 | 5.0:1 | 24 | 10/95, 15/85, 20/65 | 7 |
| NEX2500HGFE | 6/200, 8/140, 10/120 | 9 | 3+1 | 6.2:1 | 35 | 10/150, 15/145, 30/100 | 9 |
| NEX4000HGFE | 8/240, 10/200, 12/160 | 11.5 | 3+1 | 5.8:1 | 36 | 15/280, 30/170, 50/150 | 19 |
| NEX6000FE | 12/265, 16/170, 20/120 | 21 | 3+1 | 4.9:1 | 36 | 30/285, 50/185, 65/135 | 18 |
| NEX8000FE | 14/270, 16/220, 20/160 | 20.5 | 3+1 | 4.9:1 | 36 | 40/300, 50/255, 65/185 | 18 |
Shimano Technologies Included
| | |
| --- | --- |
| Hagane Gear | No |
| X-Ship | No |
| Super Free Spool | No |
| Micro Module II | No |
| X-Protect | No |
| Hagane Body | No |
| G-Free Body | Yes |
| Silent Drive | No |
| Infinity Drive | No |
| Ci4+ Material | No |
| Cross Carbon Drag | No |
| Heat Sink Drag | No |
| X-Shield | No |
| Long Stroke Spool | No |
| X Tough Drag | No |
| AR-C Spool | Yes |
| EI Surface Treatment | No |
| Rigid Support Drag | No |
| S A-RB | No |
| One-Piece Bail | No |
Table of Shimano Features Included with the Shimano Nexave
Conclusion 
The Shimano Nexave FE brings quite a bit of impressive characteristics to the table when we take a close look at its features and just what they help angles to accomplish. You can expect to get a solid performance out of this reel and it truly is one of the best models you'll find for under $50 in today's fishing industry.