Pick a reel that suits your rod based on the type (spinning, baitcasting, overhead), the size (line strength to max drag), the style (freshwater, saltwater, trolling), and the action (fast, slow).
Fishing is a sport that requires having the right gear and equipment if you want to have a chance for success. Once beginner anglers become familiar with rods and reels, many of them ask the same question:
How do you match a reel to a rod?
We'll answer that question in this article and provide you with a brief explanation to help get you started in choosing the right reel for your rod. 
The Right Rod and Reel for the Job
It's true that you can use any rod and reel to fish for virtually any type of fish, but you'll need to have the right rod and reel for the particular species you're targeting if you want to have a chance to land anything. It's important to consider the type of fish you want to catch before you select the rod and reel you'll need to use. If you're not sure what you might catch, you'll need to do a bit of research on the fish species in the area where you're going to be fishing. 
Once you've gained an understanding of the type of fish you want to catch, you'll want to look at some of the types of rods used to catch them. Many anglers are happy to share their advice in the form of message board posts, articles and videos online, so there's plenty of advice already out there. Pay attention and make sure you have the right length, power, and action for your rod. 
Length will vary greatly depending on the type of fish you're after, but power and action are often confused. Power refers to the degree to which your rod will bend and action pertains to the specific part of the rod where this bend will occur. A slow action rod will bend across the entire rod from the butt to the tip, but a fast action rod will bend mostly on the upper third portion. 
After you've decided on the type of rod you'll need, you're ready to begin pairing it with the right reel. 
Different Types of Reel 
Before purchasing a rod, it's important to decide what kind of reel you will want to use. Beginners will face quite a learning curve if they want to use the most advanced type of rod, but there are certain models that allow you to very quickly and easily pick up on how to cast and reel them. 
A spincast reel is operated by a push-button design and is widely considered to be the easiest type of reel for beginners to use. Spinning reels are quite different and they operate using a bail arm to control whether the line is released or collected onto the spool. Using a spinning reel is quite tricky at first, so starting with this type of reel is often discouraged in beginners. 
A baitcasting reel is universally considered the most advanced reel as it allows anglers to cast much greater distances and enjoy more control and sensitivity over their lures or bait. Fly rods are another possibility, but it's very difficult to learn how to cast a fly rod if you're new to fishing.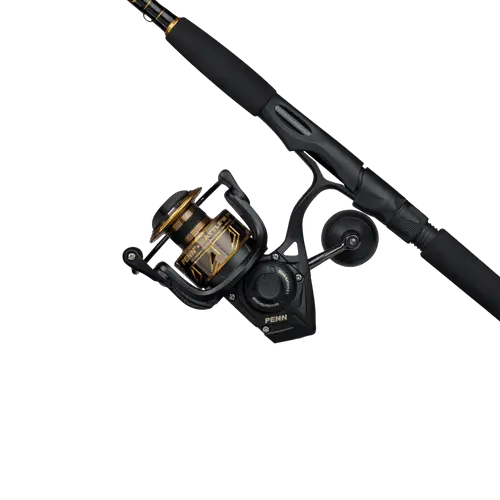 Mounting a Reel to Your Rod
Spincast reels will be mounted on top of the rod while many spincast rods will have a small trigger on the underside of the rod. This trigger allows you to grip the rod with more control and make a better cast using the push-button technology of the spincast reel. 
A spinning rod is the opposite of spincast technology, meaning that the reel is mounted underneath the rod. Spinning rods are very simple and easy to use once you get the hang of them, but be careful that your reel is firmly mounted within the reel seat. 
Baitcasters are made in a similar manner to spincast rods and are mounted to the top of the rod. Many baitcaster rods also have this trigger grip on the handle to allow anglers to better grip the rod while casting and reeling in their lures or handling fish. 
Reel Sizes 
Many reels are offered in different sizes, which means you can purchase the same type of reel in a large or small version of the product. Most reel manufacturers use a size scale that begins at 1000 and gradually increases in size in increments of 1000, meaning the next largest size would be 2000 and so on. Some of these reels are designed in sizes up to 8000 or 9000 size and this size system mostly applies to spinning reels. 
Other companies might utilize a size system that operates with only two digits with a size 10 being the smallest. Each larger reel is measured using increments of either 5 or 10 and some reel sizes are offered in 10, 20, 30, etc. while others are offered in 10, 15, 20, 25, etc. Baitcaster and spincast reels are available in different models, which are indicated in the reel's model name and number. 
How to Choose the Right Size Reel?
Every decision you make in regards to the size of rod and reel should be determined by the size of the fish you're expecting to catch. If you're going after small fish, you can get by using a shorter rod that's roughly 4 to 6 feet in length, as well as a small spinning reel of about 1000 or 2000 size. 
Most anglers consider reels larger than 2500 and smaller than 5000 size to be in the medium range. It's also a good idea if you plan to use spincast or baitcasting reels, to consider the line capacity you'll need as well. You can determine a reel's size in many cases by viewing its line capacity. 
Also, you'll want to make sure your spinning rod and reel are well-balanced. If you're unsure how to check this, simply place your finger under the rod just at the beginning of the handle and allow the rod to balance on your finger. If it tilts forward, your rod is too big for the reel, but if it tilts backward, the reel is too heavy for the rod. You should, ideally, be able to perfectly balance the rod by placing your finger here. 
Conclusion 
Using these tips, you should be able to get started in your search for the perfect rod and reel for your own personal needs. Be aware of the type of rod and reel that other anglers use for a certain species of fish and try to replicate this in your own purchase. The best way to learn what kind of rod and reel you like best is to practice on the water with a variety of different models.